Steadfastness is an act of secular subversion.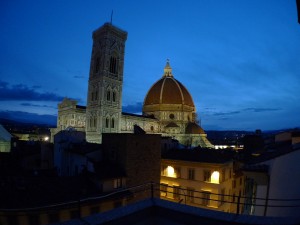 Over the last few weeks I have been using photos from around Florence. They are a bit old — I was there for a meeting in 2009 (staying in the cheapest hotel in town, with high school students in most of the beds, I blew out the daily living budget my employer has with accommodation alone). I am not sure if I have used this one before, because in it the Church is lit up and public.
This is a good illustration, for so are our lives, and that is why we are under so much pressure within the current environment. The left think they have won in the public sphere, and that they can get us to not merely nicely accept them, but celebrate their evil, give them prizes, and tell us what our Saviour is allowed to say or not say.
It's a spiritual struggle, a religious war, much more than a cultural or political one. I think that this is also why the culture war and the political war have been so generally unsuccessful. The underlying issue — the underlying morality, the underlying war about what is moral and what is the basis for that — is a spiritual and/or religious conflict, and one being waged with all kinds of weapons as well: artistic, cultural, political, educational, bureaucratic/corporate, etc. I think this is often missed by many on "our side" of this conflict, because we tend to see the other side as "Godless narcissists", when in fact they view themselves as the truly moral people who have progressed beyond the morality we have, which they consider to be primitive, obsolete and practically Neanderthal in nature. In other words, far from perceiving themselves as Godless narcissists, they instead see themselves as morally more advanced, and see our side as being retrograde, backwards, and obstinate in both of these, in moral terms, and therefore, by their own moral standards, fundamentally immoral and evil.

That is the nature of the fight. It's why the fight has been, and continues to be, so uncivil. Religious wars are generally not very civil for the precise reason that the enemy is not merely wrong, but morally wrong and therefore not only personally evil but furthering the cause of evil in the world at large — something that therefore cannot be tolerated in the least, but which must be totally defeated and preferably annihilated from the face of the earth, for the earth's own good and the good of everyone everywhere. This is precisely the kind of "totalism" that characterizes this struggle, and which has done so for some time. It will continue to do so in the years ahead, as the new pseudo-religion — which is rampant among the rising millenial generation — becomes more brazen, hegemonic and increasingly aggressively intolerant of the moral evil (in its view) posed by traditional Christians.
However, we are not commanded to be silent, but to be steadfast in the faith and bold in our proclaiming it, regardless of what the authorities say.
1Therefore, since it is by God's mercy that we are engaged in this ministry, we do not lose heart. 2We have renounced the shameful things that one hides; we refuse to practise cunning or to falsify God's word; but by the open statement of the truth we commend ourselves to the conscience of everyone in the sight of God. 3And even if our gospel is veiled, it is veiled to those who are perishing. 4In their case the god of this world has blinded the minds of the unbelievers, to keep them from seeing the light of the gospel of the glory of Christ, who is the image of God. 5For we do not proclaim ourselves; we proclaim Jesus Christ as Lord and ourselves as your slaves for Jesus' sake. 6For it is the God who said, "Let light shine out of darkness", who has shone in our hearts to give the light of the knowledge of the glory of God in the face of Jesus Christ.

7But we have this treasure in clay jars, so that it may be made clear that this extraordinary power belongs to God and does not come from us. 8We are afflicted in every way, but not crushed; perplexed, but not driven to despair; 9persecuted, but not forsaken; struck down, but not destroyed; 10always carrying in the body the death of Jesus, so that the life of Jesus may also be made visible in our bodies. 11For while we live, we are always being given up to death for Jesus' sake, so that the life of Jesus may be made visible in our mortal flesh. 12So death is at work in us, but life in you.
We are to fight. Firstly, we are to fight, because of our integrity. We are fallen, we do sin: we start the day well and end the day needing to, yet again, repent. We have problems. We may not be succeeding, or be accounted beautiful, successful, or famous. (I was going to add wise, but scholarship, the handmaiden of wisdom, is despised, and wisdom has no value in this fallen time). For we need to account Christ as our wisdom, our beauty, and his kingdom the measure of our success.
Despite the dire nature of the realities they convey, it's not over dammit. The "campaign is underway", but it's not yet complete. They've "already all but won", but they have not won. Even if it's in the "process of securing its victory", that victory is not yet secure.

And this is why I choose to fight, for despite all they have in their favor, despite the injustices perpetrated by the courts, the fiscal mess that not even Hell could devise, the mindless blather of American culture, the manly women and girly-men, and all the rest, there's still a chance.
Well, I do not live in America. I live in a post Christian nation, where the secularists fell directly into the tribal religion of the Maori. This, locally, is obvious. Which brings us to the second thing — we are heading for punishment, because we are subversive. We are subversive because we continue to do good, and we do not ask permission from the bureaux as to who we should help. We are subversive if we teach the truth.
And while there is a window to teach the truth, we should do so. At the moment the issue is one of hurt feelings.
kindergarten.
If you know your church history… the gospel and the truth was proclaimed by Sophie and Peter Scholl in a Nazi courtroom, by Lutheran and Catholic priests who preached against the fascists and had their heads removed from them. within the gulag (and we should praise God for those who did preach in the Gulag: they converted Solzhenitsyn). In the lands of the Caliph, both ancient and modern, at the cost of their lives. In North Korea, at the risk of bizarre execution.
We only have to deal with disapproval. If we live as we ought and discipline our congregation as we ought, then we will stand out like the Doumo in Florence. And this is our duty. For this is a religious war, and the other side accounts by what they are told in the press, and fears a mere government. We are accountable to God, and him we should fear.
For God is not fungible and will not fail. Governments are, and do.